The Wellness Coalition recently trained five staff members of the Council on Substance Abuse-NCADD (COSA) to become better acquainted with the risk factors for and the management of three chronic diseases: hypertension, diabetes, and obesity. The training also included skills to assist others in making health and wellness goals, and guidance on how to find affordable health insurance, medical homes, and medicines. It was all a part of Community Health Worker Training—an effort to incorporate health and wellness services into COSA's available support for addiction-related behavior change.
Community Health Worker Training at COSA
COSA staff members have always known that being healthy is a front line defense against addiction. In their Community Health Worker training, they learned that being healthy can be complicated and frustrating for those who have one or more chronic diseases. Chronic health conditions such as hypertension and type 2 diabetes develop slowly over time and can be caused by heredity, environmental factors, physiological causes and lifestyle choices. An addiction to drugs, alcohol, nicotine and sugar can be the cause of and complicate the management of chronic disease. For those with chronic illnesses, being healthy requires an understanding of the multiple causes of these illnesses and an active management of symptoms. Without a prevention mindset, a medical home, and a capacity to advocate for one's health care needs, those with chronic disease can experience a lower quality of life and can spend more time visiting the ER.
Many COSA staff members are Peer Support Specialists who are in active recovery from alcoholism or substance use disorders and they understand that those with addictions often have unmet health care needs. Serving clients out of a place of empathy, they have a heightened awareness of the gaps that exist between their clients and local health care resources, and they work diligently to bring them together. Conversations with clients about behaviors to optimize their health and health autonomy are now a regular occurrence at COSA, taking place after Recovery Support Group meetings three times a week.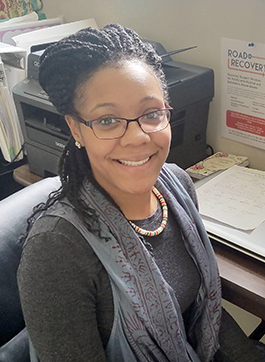 Yvette Hester's Experience
COSA staff member, Yvette Hester, has found that some COSA clients are ready to utilize Community Health Worker services while others have a profound distrust of health care providers and medicine. She recently spoke at length with a client with Chronic Obstructive Pulmonary Disease (COPD) but who has no medical home with which to partner on the management of this chronic condition. In their conversation, she learned that he was intimidated by health professionals and had difficulty talking to them. In addition to speaking with this client about wellness goals to better manage a chronic condition that had developed over a lifetime of smoking, Ms. Hester brainstormed with him ways to increase his comfort level when speaking with people in clinical roles. Ms. Hester will follow up with this client to see if he took the next step—making and keeping an appointment with a medical home to establish a place of care should the symptoms of his condition become acute.
Community Health Worker services like these strengthen COSA's efforts to promote health and sustainable lifestyle behaviors for their clients. These Community Health Worker services may eventually translate into longer lifespans for these clients and a more effective health care system in the River Region.
Source: The Wellness Coalition